JONATHAN A. VOGEL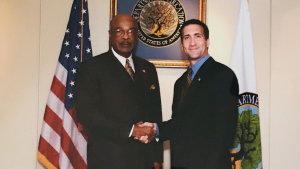 Pictured with former Secretary Rod Paige, U.S. Department of Education
Jonathan A. Vogel is the Managing Attorney of Vogel Law Firm (VOGEL) with over 25 years of legal experience, including in the nation's capital where he worked at the U.S. Department of Education and the U.S. Department of Justice, as well as in the U.S. House of Representatives.
He uses his uniquely diverse government and private sector experiences to provide a wide range of education law services to families, students, faculty, and administrators, as well as to school boards, independent schools, universities, colleges, higher education service organizations, and financial institutions.
Jonathan helps clients with virtually all matters that involve issues arising in K-12, higher education, and student loans, including IEPs, Section 504 Plans, and student and faculty disciplinary matters in K-12, and regulatory compliance, investigations, litigation, government relations, and corporate transactions in higher education and student loans. 
---
Legal Team
VOGEL is comprised of six attorneys and a paralegal, all of whom have significant experience counseling and litigating on behalf of education sector clients. Unlike the establishment law firms, VOGEL keeps its overhead expenses low and returns the savings to its clients.
---
Federal Government Service
Jonathan served at the U.S. Department of Education as the Deputy General Counsel for Higher Education and Regulatory Services and at the U.S. Department of Justice as Counsel to the Assistant Attorney General for the Civil Rights Division. At the Education Department's Office of the General Counsel, he led a team of attorneys charged with holding colleges and student loan companies accountable for compliance with the Higher Education Act of 1965, as amended, and federal regulations. At the Justice Department's Civil Rights Division, he supported the work of the attorneys in the Educational Opportunities Section who manage the Department's participation in school desegregation cases, and he served as the Department's representative to a working group formed following the 9/11 attacks to address acts of violence in our country directed at individuals of Middle Eastern and South Asian descent.
Jonathan also served at the U.S. Department of Justice as a federal prosecutor at the United States Attorney's Office in Charlotte, North Carolina. As a prosecutor, he primarily handled bank fraud and identity theft cases, obtaining guilty verdicts in every case he took to trial, as well as sentences that were tough but fair. His first role with the federal government was in the U.S. House of Representatives as Counsel on the Judiciary Committee where he worked on civil-rights issues, including the intersection of desegregation court orders and the establishment of public charter schools..
---
Private Sector Experience
Following his federal government service, Jonathan was a partner at two leading, international law firms. He represented colleges, financial institutions, and other corporate clients with legal compliance and government investigation matters relating primarily to student loans and mortgages. He was named to Charlotte Business Journal's "Forty Under 40" and was featured in an article by The Charlotte Observer titled "Student Lending is his Specialty."
His successes on behalf of his clients led to opportunities to work as an Associate General Counsel and Senior Vice President at Bank of America to manage high-stakes, government investigations and as a Senior Associate General Counsel at an education technology company that operated a large, private university to handle all federal regulatory matters, including civil rights, financial aid, privacy, campus safety, and intellectual property.
---
Education
Jonathan graduated from the Emory University School of Law where he distinguished himself as an editor of the Emory Law Journal, a member of the Moot Court Society, and the recipient of a scholarship for outstanding performance during a two-week course on trial techniques sponsored by the National Institute for Trial Advocacy. Jonathan earned a bachelor degree in psychology from the University of Vermont, where, as a member of the student government, he received the Student Association Service Award. Jonathan also spent a semester abroad studying law and government at the London School of Economics and Political Science.
---
Personal
A five-time marathon finisher, Jonathan enjoys exercising, reading, and coaching youth sports. Currently, he is on the board of directors of Lifespan Services, which illuminates the abilities of children and adults with disabilities by providing education, employment, and enrichment opportunities to live, work, and play in their communities throughout their lifetimes. He is a former chairman of the board of directors of the Children's Scholarship Fund of Charlotte, which provided scholarships to low-income families in Mecklenburg County for children in grades K-8 to attend independent schools. He also served as a member of the board of directors of the Mecklenburg County Bar. Jonathan is married to Kimberly Hollar-Vogel, and together they have four children. Two of the children attend high school – one at a public school and the other at an independent school. The older two children attend or attended public universities.
---